Originally formed in 1990, The Receipts enjoyed great popularity and success for numerous years supporting bands such as Lir and The Coletranes, playing their original songs while touring Ireland and developing their own loyal fan base.
After taking a multiple year hiatus to explore their own personal talents, they have reunited and currently play multiple private and public venues throughout Ireland, most regularly at the popular Blue Light Pub and Scholars in Dublin.
Their debut self titled album has come about through passion, dedication, and ultimately a deep bond between Karl, Ronan, Paul and James. Revisiting their older original material and also adding a few new creations, they have had the honour of working with some of the biggest names in the music industry such as Gavin Ralston of Silverwood Studios, Fiarchra Trench (known for 'Fairytale of New York') and Chris Kimsey (most famous for co-producing with the Rolling Stones).
It has been an incredible journey that has even brought them to Abbey Road Studios for final mastering of this album.
They hope you enjoy listening to it as much as they have enjoyed making it!
Vocals, Guitar / Karl McDermott
Vocals, Guitar / Ronan Clinton
Bass / Paul Mc Donnell
Drums, Vocals / James Brady
Debut Release
Featuring 'No Greater Love'
Buy the Album
25 years in the making, The Receipts are proud to present their debut self titled album.
The album comes in both CD and Vinyl formats. For digital copies of the album, click the links to Google Play and Apple iTunes. Due to current order volume, please allow 2-3 weeks for shipping.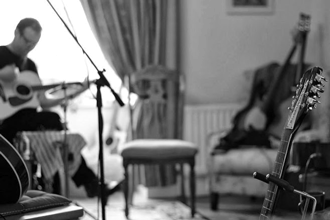 the receipts gigs
The Blue Light Pub Every Thursday Night 9:30pm

Scholars Pub 3rd February 2019 6:00pm
Scholars Pub 17th March 2019 6:00pm
The Blue Light Pub 29th March 2019 8:00pm
News & Updates
March 29th 2019
'Gig for The Gig for Gav' The Receipts will be doing a pre-support show at The Blue Light Pub for well-known and loved Dublin producer and guitarist Gavin Ralston who has been battling cancer off and on since 2014. Show will begin at 8pm, free entry, all sales of The Receipts debut album and donations from the night will go directly to the Ralston Family to assist with treatments.
March 10th 2019
Live interview with Gavin Glass on Radio Nova's Locals Only.
February 14th and 15th 2019
The Receipts will be back supporting Jason Byrne live at Vicar Street. http://www.vicarstreet.ie/component/thelist/show/1312-jason-byrne-you-can-come-in-but-don-t-start-anything-vicar-street-live-in-vicar-street-dublin-8-Ireland-on-14-Feb-2019.html?Itemid=1312
February 9th 2019
'So Just Who Are The Receipts' - Check out the article written by Elaine Stenson of Radio Nova which dives further into the background story of The Receipts - how they came together, went their separate ways, reunited and where they're headed next. https://www.nova.ie/who-are-the-receipts-122654/
February 1st 2019
Debut album released for preorder on vinyl and digital at Google Play and Apple iTunes.
February - March 2019
The Receipts debut album announcement found in Cara Magazine on all AerLingus flights. Available for listening on Irish Pulse Channel on all transatlantic flights!
September 25th 2019
Interview on Locals Only with Gavin Glass - This week, Gavin speaks to Dublin band, The Receipts. The band are Karl, Ronan, James and Paul. The Receipts go back 30 years and have recently reformed in the last 4 years and have got back jamming together. They're about to launch their new album. You can catch them at The Blue Light every Thursday! https://youtu.be/NILx-qxn9O4